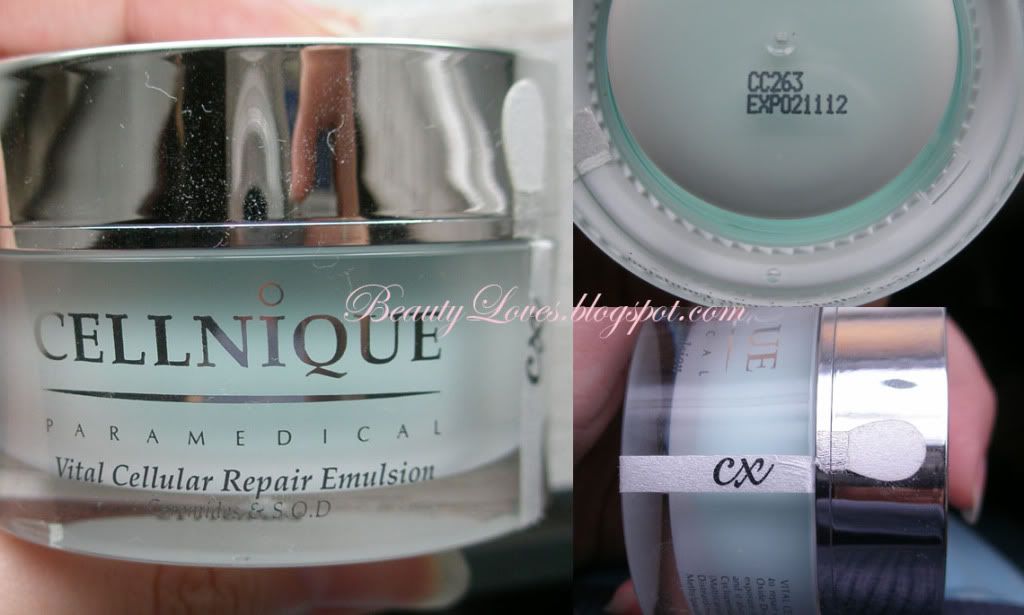 Click on images to enlarge. Expiry date on the bottom of tub, safety seal on the side.
When I first received this tub of moisturizer, I have to admit, I was a little skeptical. When I was asked about my skin's condition, I had admitted that I have combination-oily skin with all the clogged pores problem: blackhead, whitehead, you name it. I was expecting some miracle thingaMagic that will zap all those away and what I got in the mail was this. A tub of creamy-looking moisturizer, the bane of my combination-oily existence.
Hmm.
Nevertheless, I pored through the pamphlet that came in as well and found out that this emulsion IS a thingaMagic after all, albeit a different kind.
Cellnique
recommends this moisturizer for skin with
dehydration problem
(my cheeks are dry),
open pores problem
(I have craters),
scars problem
(I have those from acne and itchy fingers), and
sensitivity problem
(I have redness and broken capillaries around the nose).
Vital Cellular Repair Emulsion is touted to be suitable for all skin conditions and for day and night use. It:
has reparatory ingredients to repair damaged cells and promote healing
has ceramides which provides visible skin replenishing and reparation benefits
has Super Oxide Dismutase, an antioxidant that acts as a free radical scavenger to help reduce tissue scaring and damage from exposure to sun
Intriguing.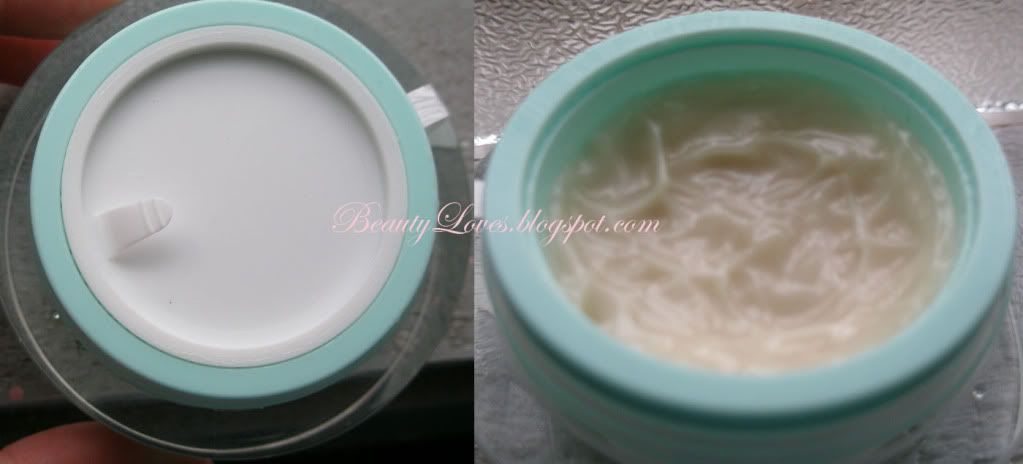 Plastic cover provided for 'oops'-ness days. Creamy gel.
First on, I have to admit that this emulsion is great as a moisturizer. It may look creamy but it feels more like gel and it is ultra absorbent. When I use it at night, I wake up in the morning with little or no oiliness. Even with the air-conditioner on, there wasn't any dryness either. A moisturizer that self-adjusts? And maybe, just maybe, the healing ingredients in it hasten the 'ripening' process of pimples. The before picture below was taken in the morning after I first used this, and a gigantic ripe pimple already appeared on my chin.
It has a slight scent to it that I can't describe, but once you smooth it on there is no smell left. Like I mentioned the texture is more like a gel so you don't have to work it into your skin like some cream I have tried *cough*L'occitane*cough*. It is absorbent like one too. A little goes a long way, as demonstrated in the picture I am only a quarter into the tub after 3 weeks of 2 times usage.
Packaging wise, some may dislike it as it comes in a tub with no spatula but honestly, it makes no difference to me. As someone who picks at an acne with hands that have touched something elsewhere (I have forgotten it ok?) I don't have hygienic issues with it. And please don't let me tell you I may have intentionally kept mascaras for more than 3 months.
Oops.
Anyhow, I have tested this out for 3 weeks with no other new skincare introduced and all other regime maintained. So did it work it's magic? Let me dissect it one by one.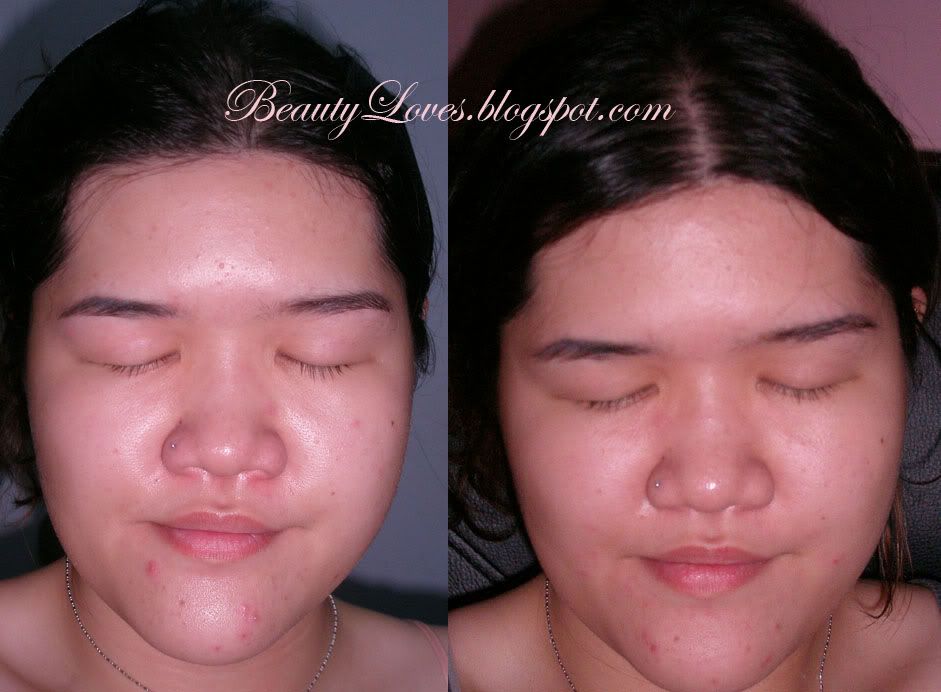 Before on left, after on right.
Dehydration - As I mention above, it is a great moisturizer

Plus +



Open pores - If you open the enlarged images of the before and after, you will notice there is no difference.

Minus -



Scars - If you ignore the fact that I have new acne in the after pic, this does help in lightening some of my old acne scars, especially in the chin and forehead area. However, it is not working as fast as I like.

Minus -

Sensitivity - This is the extraordinary one. I have less redness around the side of my nose! As evident in the profile shot below.

Plus +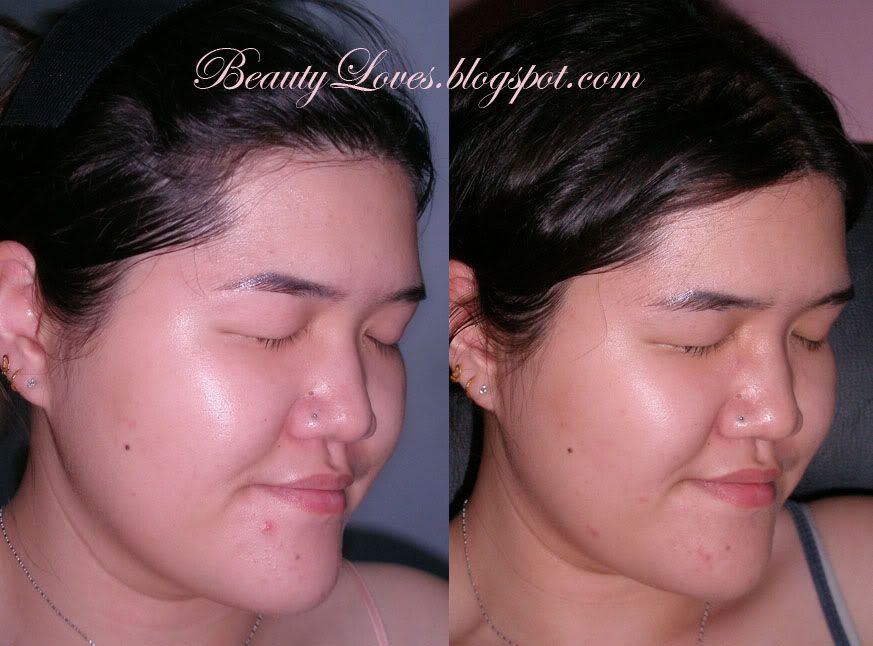 Before on left, after on right.
I will continue to use this as my night moisturizer as I want to get back to my trusty
Lancome whitening day milk
(I love it to bits) . Will I buy a new one when this runs out? Maybe, if continuos usage can zap off my old scars and close up those pesky pores. Meanwhile it would seem that I have to look elsewhere for my congestion problem...
*sniggers* I have something else from
Cellnique
as well which I hope can combat this problem, check back in another week or so after I've run it through the usual trial run.
Price: RM 229.00
Net Weight: 1 fl oz/ 30 g
Suitable for: All skin types
Dependency: None
Available at:
www.cellnique.com