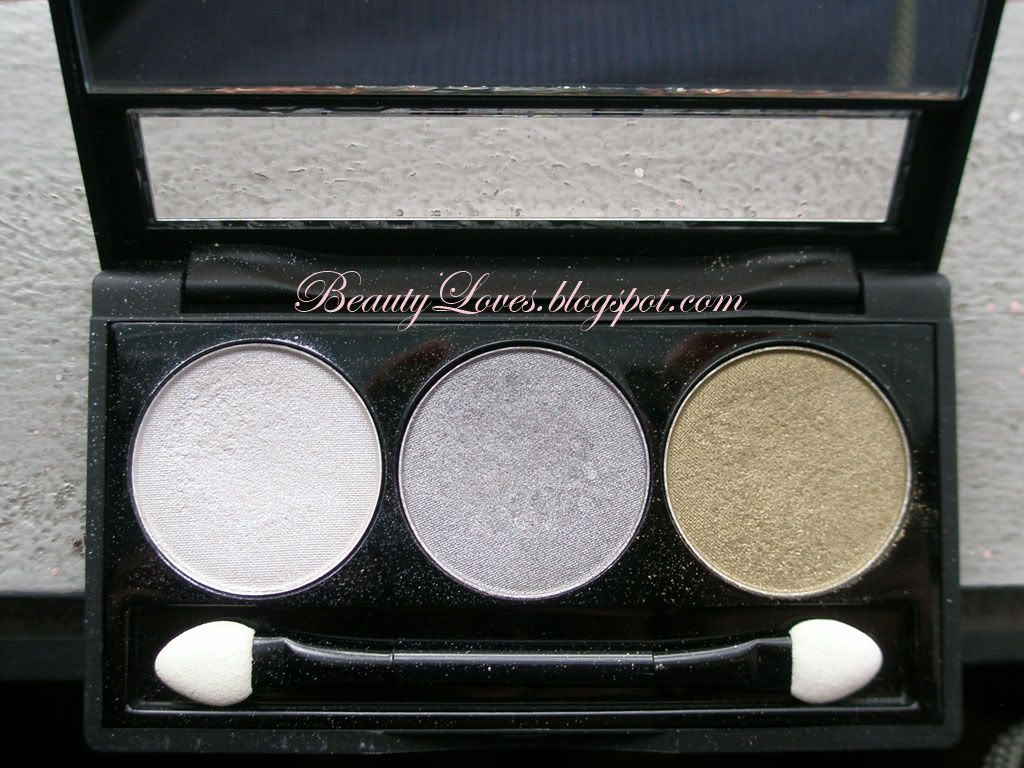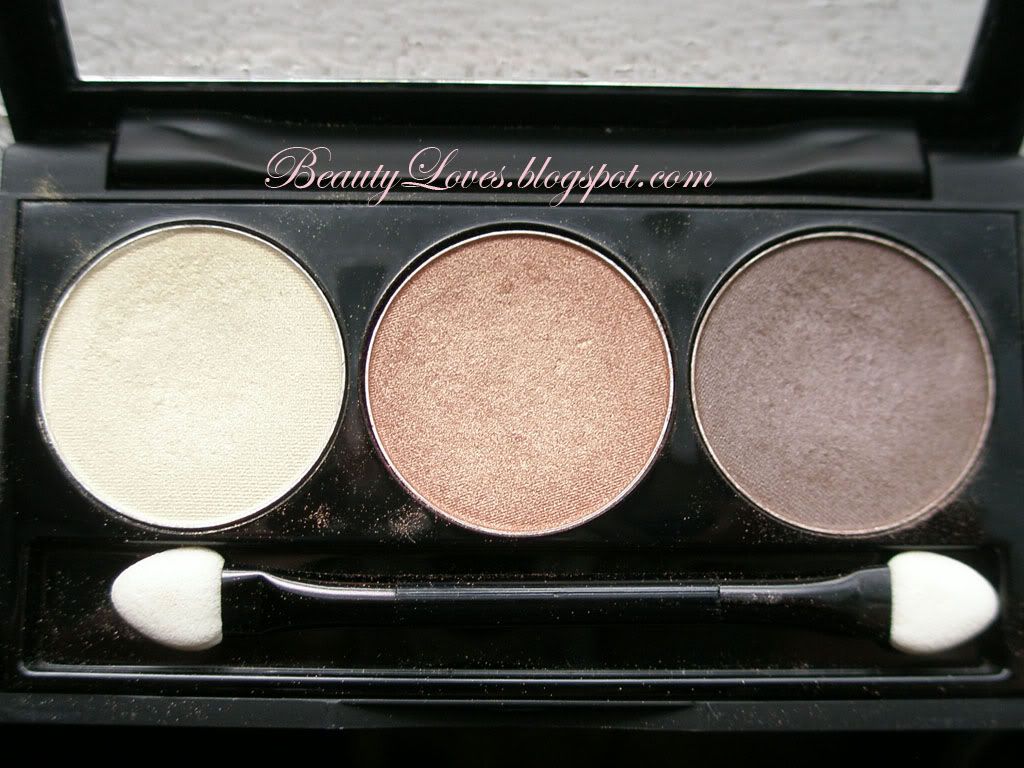 TS16 on top, TS19 on bottom. Click on images to enlarge
In TS16 and TS 19.
A few months back, I got me a couple of
NYX Trio Eyeshadow
Palettes to try out. They are inexpensive and the colour selections are amazing. We don't have NYX here, so I had to order them from overseas through a third party, which in turns incurs shipping charges, surcharges, fee charges and what not charges.
Ah, the things we do for love (of makeup).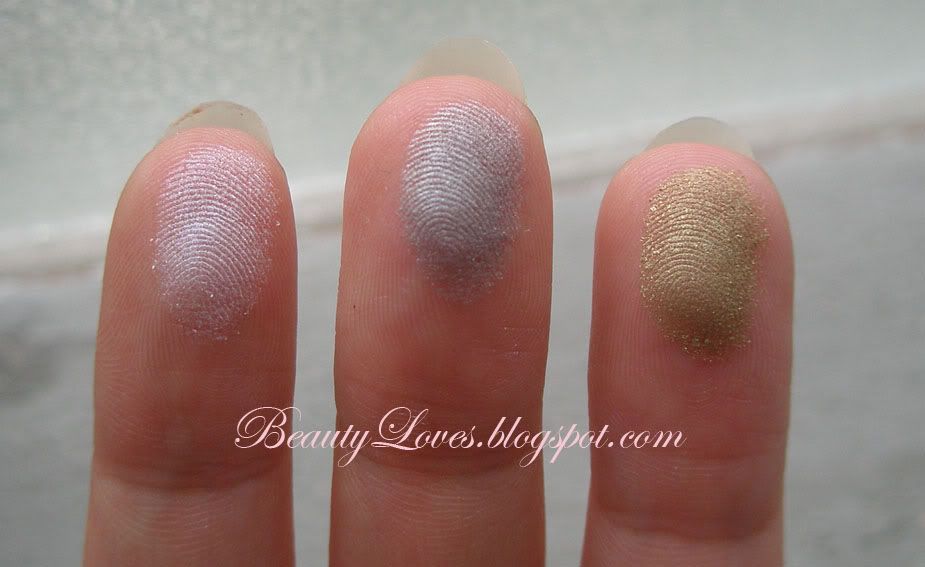 L-R TS16: Opal, Platinum Silver, Luster
The eyeshadows are housed in a slim black plastic casing. Very utilitarian. It feels sort of flimsy, like it would break if you accidentally sat on it (no, I did not!) but for it's price it is fairly justifiable. There is a small mirror which works good for my small eyes, but if yours are as huge as Lake Matheson you gotta use your own. A double-ended sponge applicator is also provided, which feels like it should work properly as the sponge feels nice and spongy (I only use brushes).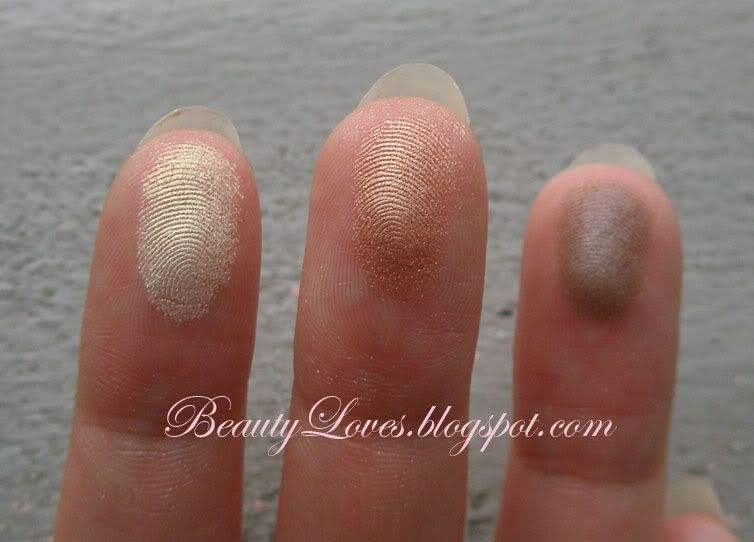 L-R TS19: Barely There, Champagne, Root Beer
All in all, a very good compact to travel with.
For the colours, most of the series runs from light (highlight), mid (crease), and dark (outer crease) however some of the palettes seems to have oddly paired shades. These are good for collections while the others are good for us lazy bums who thinks sometimes it's too much trouble to sort through a set of singles to complete an eye look. Hallelujah ladies.
Texture wise, the shadows are soft and powdery and have medium pigmentation, which shows up more using a base. The swatches below are all applied on clean lids only with absolutely no prep. Mine are either shimmery or frosty, but NYX shadows comes in a variety of mattes, shimmers, frosties, sheers or glitters. With a base, the colours last from sunup till sundown, but due to my oily lids, I have never tried them on without a base.

Opal

Platinum Silver
Luster
Oh and I forgot to mention that the eyeshadow pans are the same size as MAC, so you can probably depot them and stick them into your MAC palettes.

Barely There

Champagne

Root Beer
Would I recommend them? Why yes I do, seeing as they are affordable and variable. Would I buy some more? Honestly, no but this is due to the fact that I am moving on to mineral eyeshadows. So do not let my choice stop you from getting these :)
Price: USD 8, but frequently goes on sale
Net Weight: 0.138 oz / 3.9g
Suitable for: Everyone
Dependency: Brush, Sponge Applicators, Fingers
Available at: NYX.com, CherryCulture.com, NPB.com
Would I buy this again: As above