Akoya pearl necklace. I heart this. Click on image to enlarge.
Even though my birthstone is pearl (people! Take note! My birthday's in June!), I have never really fancy wearing pearls. Somehow and I have no idea from where this feeling stems from, pearls remind me of grandmothers and old lace.
But then the vintage wave seems to have taken the Malaysian fashion world by storm, and the best accessories are none other than pearls. Pair a vintage black dress with blood red lips and a strand of snow white pearls and you would be magically transform into Marilyn Monroe or Audrey Hepburn. Who can forget Breakfast At Tiffany's?
At a dilemma on where to get your own pearls? Do not worry as I have a website for you. Pearlnecklacecenter.com offers you a wide selection of
freshwater pearl necklaces
, and you can even choose different colours for your pearls. Fancy something classic? Go for the white ones. Want to be sweet and girlish? Choose the pinks or lavenders. Or go mysterious and exotic with the greys and blacks.
My pearl bracelet
Each necklace has a 14k gold clasp to complement the whole look. The pearls are all uniform in size and has few visible flaws. I should know this as I have a pearl bracelet from them. And if you have luxurious in mind, you can always try their
Akoya Pearl Necklaces
, saltwater pearls gathered straight from Japan.
If you feel that a
freshwater pearl necklace
might be a little too ostentatious for you, you could always start small and try out their pearl bracelets first, like what I had did. You have a choice of either triple-, double- or single- strand in either gold or silver depending on your budget. You can also make a great gift for your girl friends with the beautiful and elegant single pearl earrings. Made up of triple A grade pearls, the earrings exude class and elegance and should be a hit with your girls.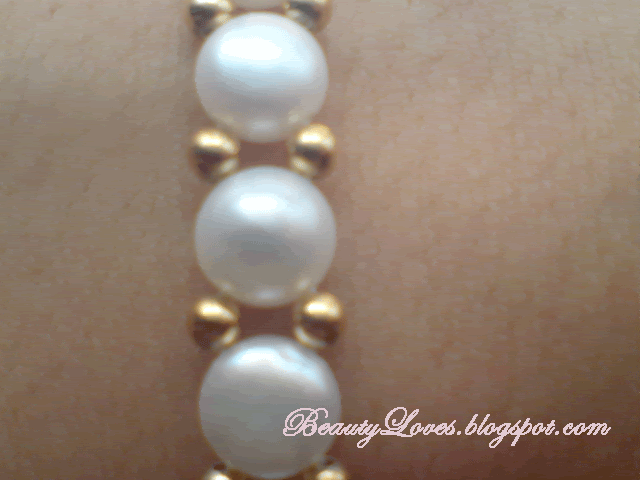 A close up
Each item bought from them comes in their own cases and shipping is also free, no matter where you are. You can also check out their "Under $100" section for a selection of pearl necklaces, bracelets and earrings that are under 100 USD.
Did I mention free shipping? Did I mention affordable? Did I mention one year warranty? Payment is also easy breezy as they accept Visa, Master, American Express and even Paypal. So when you have the time, go to the website and browse around. Maybe something might catch your fancy.
Or maybe my elegant hand might.