Click on image to enlarge
I have never really been that into MAC stuff, maybe because their bright colours truly scare the bejeebers out of me. However their Cult of Cherry collection has some really lovely fall colours that are interesting and still everyday.
At first I wanted to get the Spiced Chocolate quad, but then I saw this Tempting Eye quad that has a delightful chartreuse. However I am still a-wanting the Sweet Chestnut shade in the SC quad so if anyone has depotted theirs and would like to get rid of it, you know where to throw it to ya? (I will pay for it la :)) MAC has a few eyeshadow finishes but since I don't really own a lot of them, I will just review those eyeshadow in these quads.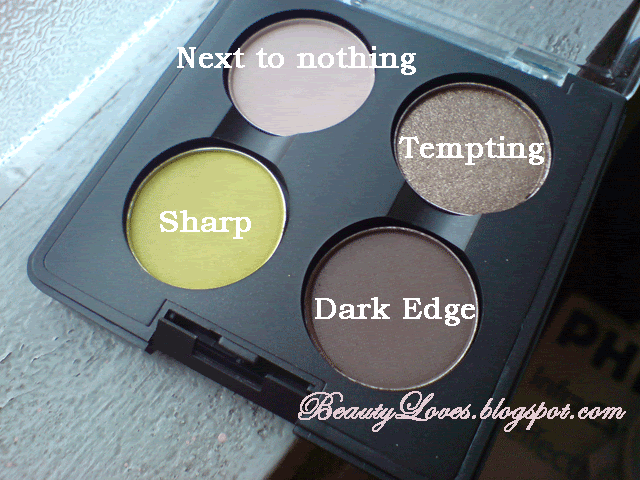 Next to Nothing is just like it's name, looks like nothing at all. You mainly use this as a highlight because it is a frosty vanilla shade. No surprise, it's finish is Frost.
Sharp is a lovely chartreuse or yellow lime. It's a wonderful, 'popping' colour that will suit most people. The texture is really smooth with low shimmers. It's finish is Satin.
Tempting is a cool bronze that goes well with Sharp. I find it a little more gritty than the others because it has larger shimmers. It's finish is Lustre.
Dark Edge is a cool chocolate grey that goes on quite matte and smooth. To me, it is best as a liner shade. It's finish is Satin.
I use these shadows with a base and I haven't road tested them dry so I have no idea on their lasting power. No fragrance at all, and their packaging is just a simple black plastic back with a transparent top cover. Nothing inspiring or luxurious or beautiful, just plain practical.
All in all, this quad is a lovely collection of colours that compliments each other and also suitable to go with any other shades in your collection. I loves it lots, not to mention that it is so bloody cheap. Keep in mind that each eyeshadow pan is as big as a MAC single! Now it makes me want to buy the Spiced Chocolate quad because I want 2 of its colours and its cheap and therefore justifiable! Stop me!
Price: RM 138
Net Weight: 0.20 oz / 6g
Suitable for: Everyone
Dependency: Brush, Sponge Applicators, Fingers
Available at: MAC counters, online
Would I buy this again: Will try some other quads