Click on image to enlarge. My polish army. Get it? Polish?! Oh never mind.
I seldom paint my nails, and when I do, only on my toes. My theory is that since my feet are so far away from ground level, people won't notice even if I did a bad job. Finger nails however are a different case; we may unconsciously wave them around people's faces.
I love using dark colours on my toe nails, again, they help in disguising any bad work and somehow they are such a pretty contrast to my pale feet. A narcissist should never lose out on any chance to be narcissistic, I say.
There! I always get bubbles! I think it's time to chuck my top coat.
Since I only keep them on for a week or so, I do not think it is necessary to buy expensive nail colours that almost cost their weight in gold. Why should I pay RM50 or more for high-end branded nail colours? It's not as if they have crushed diamonds mix into the rainbow liquids or that they are less harmful to our nails.
Elianto's nail colours have different textures. Some are matte and creamy, some are shimmery and sheer, while some are glittery and in-your-face. Some colours require 2 or more coats for the colours to be vibrant while some only require 1 coat. They do not dry out easily in the bottle and a bottle last you a long time. Up to date I have never finished a bottle, and I only threw some away because I got bored with the colour and they refuse to finish up by themselves.
The colours do chip easily if used on their own however that can be remedied by using a better base and top coat like Sally Hansen's or Lord forbid, O.P.I.
I always love visiting the Elianto's counter because it seems like I see different, new colours every time I go there. If I am not mistaken, Elianto actually has a wide range of colours and they routinely swap them in and out at different times. Each time is a surprise and a pain (sometimes) when you don't see what you want but you know they have it. So near yet so far...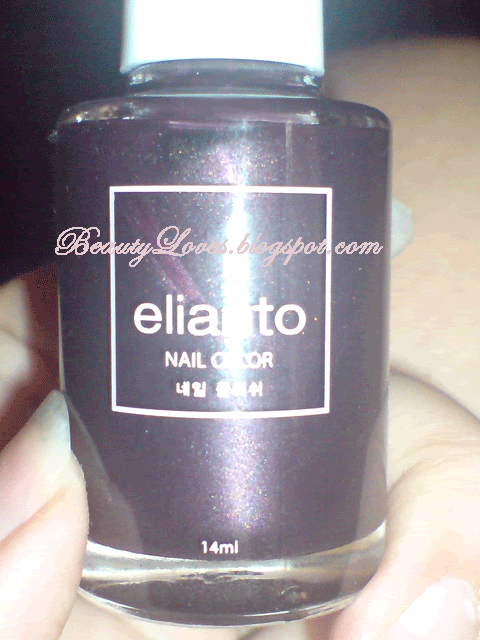 And before I forget, if you really love MAC's Cult of Cherry's Illegal Purple nail colour and don't wanna cough too much up, I found a perfect dupe. It is the same colour I have on in this post, a blackened eggplant/cherry. Code number 39 and code name Dark Purple.
Price: RM 5
Net Weight: 14ml
Suitable for: Everyone
Dependency: Good base and top coat
Available at: Elianto counters
Would I buy this again: YES