Click on image to enlarge
Well, OBVIOUSLY the title is just my crude translation. Can you imagine having a product with that name? Its like, even my hair is having monthlies and PMS. I first saw this on the Taiwan beauty show Ladies First. They were not actually introducing the clip-ons but I saw Kevin stuck it onto the model's fringe and voila! The hair stay put.
It originally came from Japan and was discovered by one of the hair stylist who is a regular guest star on the show. And I have to say it was worth my effort trying to locate this little tool and waiting patiently for it to come to Malaysia. I ordered this through someone who imported it back from Taiwan.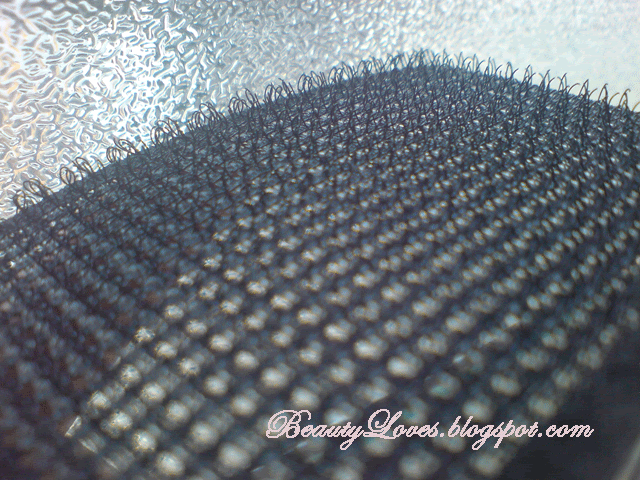 Each pack contains 2 pieces of the pads. As you can see from the image, one side of the pad is actually Velcro-like that grabs onto the hair easily. Since it has a rather big surface, 2 pads is more than sufficient in keeping your fringe out of your face. To use it, simply swipe your fringe back on one side, then slide the pads along your hair, like a hair pad. Press down slightly to increase the hold. Repeat on the other side if you desire and there you have it, hair that stays put for when your wash your face, put on makeup, even for when you know you will work up a sweat.
It is available in 3 colours: Black, Baby Blue and Pink. I like black because it is rather unnoticeable so even if I put it on and walk out to my front yard, nobody will stare like I'd grown a pink patch of hair overnight. Though it is plastic, it is quite flexible and you can mold it following the shape of your head. I also do not recommend you applying heat to it, since I have a feeling it could melt.
After you remove it when you are done, a simple brushing or flicking with your fingers and your fringe will be back in place. In fact I think it helps in introducing a decent curve if you usually have a limp fringe.
Eek! Spot the vulnerable bald spot!
And the amazing thing is, it's hold is incredible. As long as you do not make drastic movements, it won't budge an inch. Don't believe me? Watch the small clip and ignore the crazy lady.

Taken with camera phone. Sorry for the horizontal/vertical mix up and stupid expression
I noticed in a forum where ladies say you can buy this in Sasa in Singapore for SGD 6.90. And if you can read mandarin, you can try buying from this
PayEasy site
. By the way, I got mine for RM 15. A small price to pay for something useful and forever. As long as my cats don't chew it up.