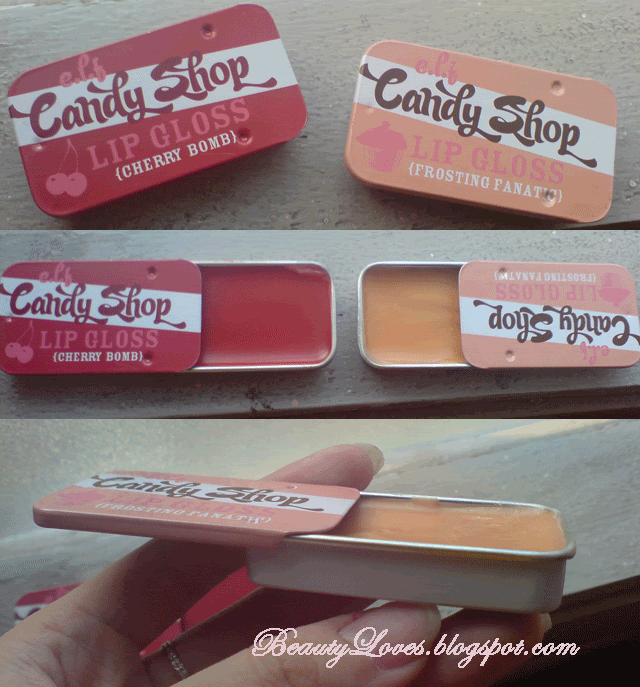 Click on image to enlarge
By now some of you should know that I really dislike my lips, because I think they are lopsided and uninviting. But somehow or another, this did not seem to have cure me of that insatiable desire to buy lipsticks or lip glosses, as long as their shade is pretty.
However, the reason I got these was because their tin containers are so cute! Just look at that vintage packaging, with the sliding tin covers and cute printing. And it didn't help that the container is surprisingly big (which equals more product, yeah!) for the price you pay for it.
Cherry Bomb on left, Frosting Fanatic on right
Colour-wise, the gloss is only sheerly pigmented. Though they look gorgeously pigmented in the tins, you'll only get a slight wash of colours on the lips. Good for everyday use, but not making any statement by themselves. The two shades I got is Frosting Fanatic and Cherry Bomb. FF is a light peach/tan/nude with soft gold shimmers while Cherry Bomb is a solid strawberry red shade.
Texture-wise, the glosses are rather sticky. I used a lip brush to apply the gloss but I think half the fun of using these fellows is that you can use your fingers to swirl around and then apply. But as with any other glosses and balms, a windy day will give you a headache and a lipful of stuck hair.
Frosting Fanatic
Scent-wise, I think ELF really do need to update their web-site. Cherry Bomb is supposed to smell like cherry but all I detect is strong coffee and chocolate (mocha?). Frosting Fanatic smells like caramel and coconut. Both of them taste slightly sweet so if you hate sweet fragrance and taste, these are definitely not your thang.
The tins came sealed in plastic but I think during the transition, the heat must have caused a tiny amount of gloss to melt and escape the from tins. When I unsealed it, the whole tin felt sticky and I had to wipe them down. This raises the question on whether they are actually travel friendly. Imagine them melting in your bag and dripping down the seams :)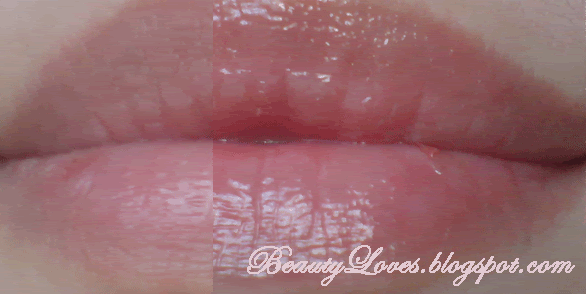 Cherry Bomb
All in all, they aren't fantastic, just merely good. However with that price tag, it is surely something that you just have to try out and then only decide whether to trash it and say goodbye. For me, these two are enough for a lifetime.
Price: USD 1.00
Net Weight: 0.39 oz / 11 g
Suitable for: Everyone
Dependency: Fingers pr Brush
Available at:
ELF site
Would I buy this again: ENOUGH, AGAIN