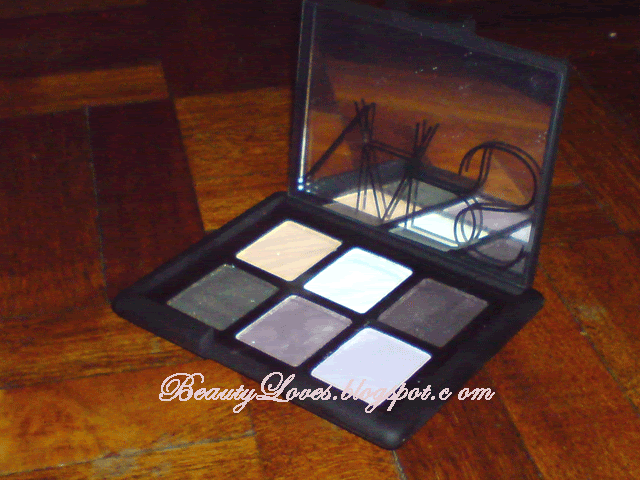 Click on images to enlarge
This just came in with the post yesterday. After my first glance of it online, I was wishing with all my might to get it. And get it I did, with a price to rival the Hiroshima bomb. However, it was only after I have ordered it, did I find some NEGATIVE reviews on it! Mostly they were saying that the texture of the shadows was not up to the standards of the NARS singles, how the shadows refuse to stick onto the lids, how some of the shadows were gritty, how the shadows were too dry, and so on and so forth.
But the colours are gorgeously out of my world. And after trying it out myself, I have to admit that it takes some skill and effort on our part to work the eyeshadows. And the colours are still gorgeously out of this world.
Shade are describe from left to right, top to bottom
The Night Series Mini Palette is actually last year's holiday limited collection. It consists of 6 shades, all from the Night Series. They are Night Star(shimmery peach), Night Snow(glittery silver white), Night Fever(black with red shimmers), Night Clubbing(black with gold shimmers), Night Rider(glittery purple) and Night Fairy(shimmery lilac).
You do have to take note, there are 2 kinds of texture in this palette, in which I have already described above. (How do I know this? I used a microscope on each of them... D'oh! Read the back of the ingredients list and you will notice that 2 of them are listed differently. And my powers of observation are excellent too, if I do say so myself). I do believe that people are finding the glittery kind hard to work with, because they have a hard surface like baked shadows.
Instead of yielding powders when you swirl your brush on them, the eyeshadows come out in
shards
that requires high blending skills. Therefore I advise you to use EITHER your FINGERS, a SPONGE APPLICATOR or a HARD-BRISTLED BRUSH. Personally I use fingers because the warmth of your fingers seems to help in blending. For the shimmery kind, a normal soft brush is already enough, plus the blacks are super pigmented.
L-R Night Clubbing, Night Fever, Night Snow, Night Star, Night Rider, Night Fairy
Some say that the shadows are not pigmented, but to me, all of them shows up on bare skin except for Night Star. It is much too neutral and only leave gold shimmers behind. Most of the colours "pop" more if you use a primer or a cream base, plus it helps to grip the eyeshadows more.
The size of each shade is roughly 3/4 of a Shu Uemura shadow pan. The packaging of the palette is like all of it's other packagings, a velvety, rubbery black casing with their iconic NARS logo stamped in front. It also comes with a huge-ass mirror. And no fragrance.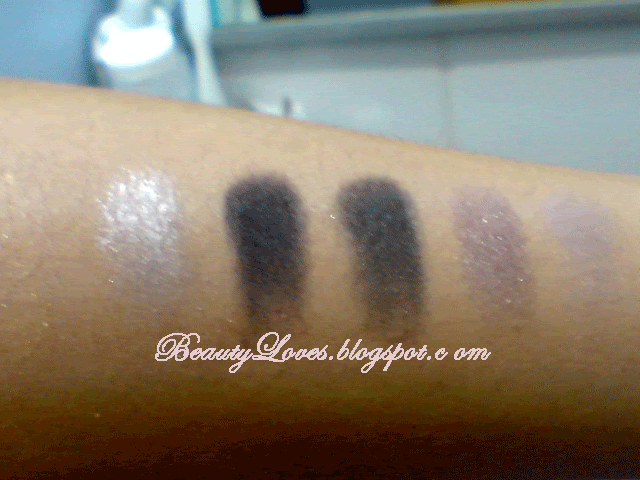 Contrast adjusted for better viewing. Shadows swatched on arm with MAC Chiaroscuro Paints as base. Night Star at far left, Night Snow, Night Fever, Night Clubbing, Night Rider ,Night Fairy
So how do I rate it? Probably a 4 out of 5, with points docked off for the glittery eyeshadows that requires me to use my fingers and points added for the gorgeous shimmery colours. I would say this is a great palette to pull off multiple smoky eye looks for night and soft, shimmery looks for day with the softer shades. There is one major con though.
It makes me wanna get other NARS singles and duos now. Dammit.
Price: USD 55
Net Weight: 0.3 oz / 8.5g
Suitable for: Everyone but the fussy kind
Dependency: Brush, Sponge Applicators, Fingers
Available at: Sephora, NARS counters and online retailers
Would I buy this again: WILL LAST ME A LIFETIME, OR 2