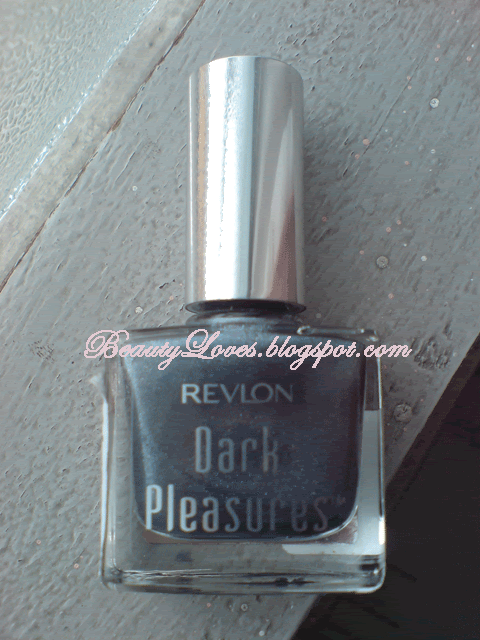 Damn phone's finally back and working properly. I did not realize I depended on my phone's photo capturing capabilities so heavily until it was lost to me. No matter, my reviews will come out more frequently from now on (I hope).
I just wanted to go for a short hop to a pharmacy at a shopping mall today to grab some supplement. Who knew I would walk out with not a caplet/tablet bottle in hand but instead, a teeny screw top bottle of polish.
This nail polish was last year's limited edition offerings from Revlon that at that time, did not seem very limited at all. How so you ask? Well, anything that is still available after a year is definitely not LE in my books. I did not get anything from the collection then because it was so darn expensive for a drugstore brand. I just have to slapped on a couple more tens of ringgits and I can get something from a higher end brand.
Since this was on sale at 50% off (imagine if everything was at 50% off. Hallelujah!) and the colour was intriguing and sexy, I did not hesitated at all and just bought it up along with
something else
from the collection (this is for another day). The 50% off I saw was at Caring Pharmacy in Subang Parade, not sure of anywhere else.
The texture of this polish is nice and smooth, and it glided on smoothly without being too runny or too thick. It contains small particles of shimmers that does not add bulk to the polish itself, therefore resulting in a smooth surface after application.
Colour wise, the one I choose was a smoldering, shimmery grey, almost like gun metal. The shimmers are quite low key and looks hot in the bottle. Pigmentation of the polish is of excellent quality! I just needed one layer of it and the colour is already showing. I experimented by putting on another layer and the colour still stayed the same. This is the only polish I have tried up to date that only requires one layer.
Does it comes off easily, does it chip, does it stains? Well I can't answer you this now, but I do know that all dark shades of polish will stain nails to some degree. But with a good base coat and regular practice of removing polishes every week, you can keep staining at a minimal and still have hot looking nails.
I am not sure whether the regular line nail polishes has the same texture and pigmentation as this one, but I will certainly be sad if they aren't. Compared with a bottle of O.P.I and even without a discount, I still say 'yea' to this and 'buzz off' to the big O. I would rather spend the extra 25 on a good many Ramly burger (because McD is getting smaller and more expensive).
Colour: STEEL-ETTO (800)
Price: RM 25
Net Weight: 0.32 fl oz / 9.44ml
Suitable for: Everyone
Dependency: Base coat? Top coat?
Available at: Pharmacies
Would I buy this again: MAYBE