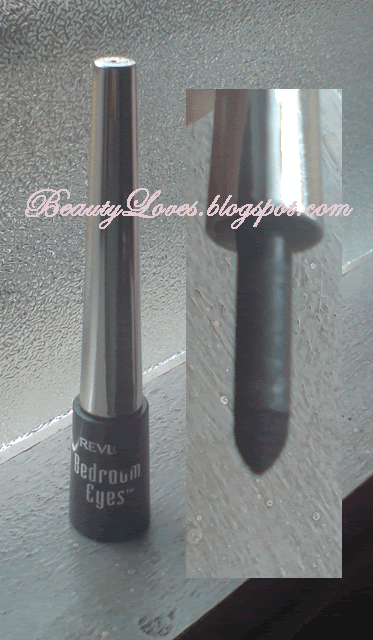 Click on image to enlarge
Remember my
Revlon Dark Pleasures
gunmetal nail polish? I mentioned that I got something else along with that, and this is it. Again, at 50% off. No idea why they would call it Bedroom Eyes, while it is the attitude of a woman and not her makeup that makes eyes sultry. As per title, I only like this and would not hesitate to whisk it away.
Bedroom Eyes is actually a powder liner. I have never use a powder liner before, and using eyeshadow as a liner does not count either, ladies. If you are wondering which is more suitable for you, I can only let you know I use pencil when I am in a hurry, gel when I'm out the whole day, eyeshadow when I'm doing subtle looks and powder when I want to scratch my eyeball.
Yes, you read it right. Read on.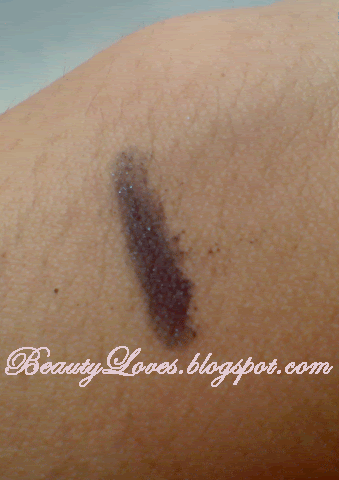 Contrast adjusted to show the little shimmers. Hair grown to freak you out.
This liner comes in a small triangular shape bottle with a silver cap that is of the correct length and circumference for you to grasp it and draw comfortably. At the end of the cap is a smudger brush and so by now you should know that the way to work this liner is to blend and smudge. There are teeny balls in the container which I suppose helps to ensure the powder does not clump together. Each time you push the smudger in and give the bottle just a lil shake, an impressive amount of powder will be stuck onto the smudger (though I have to admit, impressive because it could be new).
The texture of the powder is somewhat fine, and even on a clean eye with no base, fairly easy to blend it in. The colour and pigmentation of the powder is fairly good and versatile in the sense that you can use a small amount then blend to get a soft wash, or pack it on to get an intense (smudge) line. I also like the fact that using this, I can create a smoky look just by using one shimmery base shadow for the whole eye then this fella as a liner AND dark shadow by blending it upwards.
Only powder liner here.
BUT!
I dislike the fact that powder drops everywhere no matter which angle I hold the brush, some on my upper eye line, some went into my eye(hence eyeball scratching, remember?) AND most on my lower eye. In the process of cleaning up my lower eyelid, either I'll rub off the concealer that I meticulously put on earlier, or smudge the dropouts enough to get panda eyes. It's like, does the creator think that we usually lie down in bed facing the ceiling to draw our eyeliner? Or that we love the extra work of cleaning things up and it makes us so happy?
Since I'm feeling gay today, I'll let you know how I use this. First get a hand mirror and put it on a table with the mirrored side face up. Bend your head down over the mirror and ensure there is sufficient amount of light on your face at the same time. Using the smudger, make small dots of liner on your eyeline and pray that the drop offs will land on the mirror and not your lower eyelid. When you think that all the powder on the smudger has found new homes, straighten up and blend as normal. Repeat however much you want.
If you think that is too much work, let me show you something.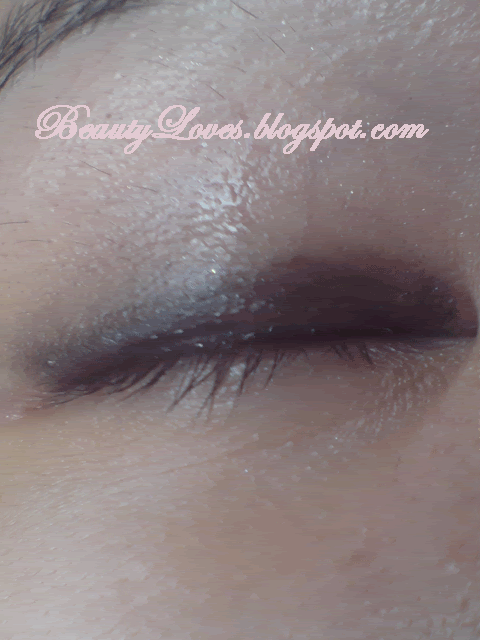 Yup, it is surprisingly waterproof. It is also somewhat smudge proof as I went clubbing one day with it (this stuff is good for nights) and no sleep deprived insomniac look back at me in the mirror.
Colour: SULTRY SAPPHIRE
Price: RM 49.90
Net Weight: 0.0315 oz / 0.9 g
Suitable for: Middle level and experts
Dependency: Patience
Available at: Pharmacies, Revlon counters
Would I buy this again: ONE IS ENOUGH