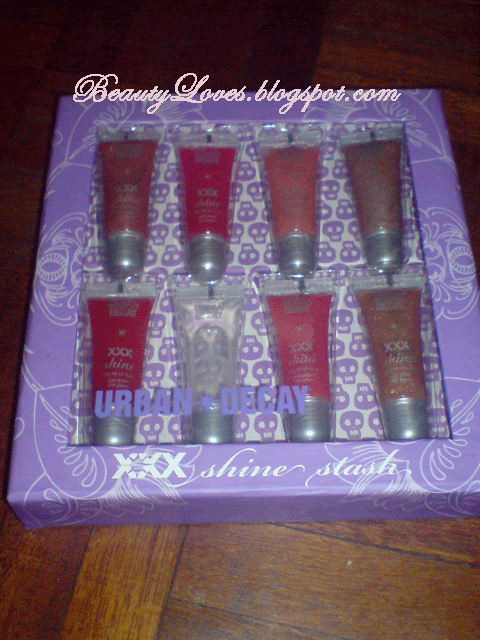 This is a review and continuation of
First Contact: Urban Decay XXX Shine Stash
. Also this post will be damn long and picture heavy so load it first and come back later if you're still using prehistoric dial up :)
XXX Shine Stash
is a box set containing 8
Urban Decay's XXX Shine Lip Gloss
in 8 different shades. A perfect way to test drive the colours and texture of each gloss before you get the regular sized fellas. I will be providing some details on each later.
Texture wise, the gloss is rather thick and sticky, but not exceptionally so. To me, it is just like Lancome's Juicy Tubes (will review this later too!). It has a slight minty scent too, as I mentioned in the last post. Not too heavy but rather refreshing and sweet. The gloss does not have any taste at all, neither sweet, sour nor nasty.
Colour wise all of them are on the sheer side. Some of them have glitters while others are clear. But the best of is the amazing tingling and cooling sensation they give your lips. Once you applied the gloss on your lips, your lips will actually tingle and look glossy! I swear that after the half hour it took me to take the pictures, my lips were already numb in the end.
The gloss has a slant tip which makes applying a breeze. The body is made of soft rubbery plastic, too soft in my opinion. I think it will be easily squashed and then you will have a great mess in your handbag. You have to be careful with this gloss, but I absolutely love the concept of bringing a small tubie out for touch ups instead a lunging a big one. Price wise? Each cost about USD 3.20 only!
Swatches of colours, click on each to enlarge for clearer looks:
Ok, I'm beat.
Price: USD 25
Net Weight: 8 x 5.93ml / 8 x 0.2 fl oz
Suitable for: Everyone
Dependency: None or lip brush
Available at: Not too sure, but definitely in Sephora and online websites
Would I buy this again: Don't even think I will finish all of them, but if I want to, definitely YES for Ozone and Guys Love Betsey