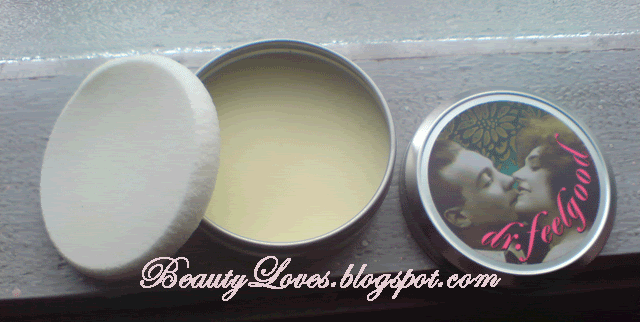 My trusty phone just got admitted, and so along with it goes my one and only camera. Not too sure whether I'll get it back anytime soon, so hopefully I'll be able to find another alternative in taking and putting up images. Sigh I miss my phone already, it's been 1 hour.
I only have 4 Benefit items, and this is the second one that I've been using for a prolonged time. The other was
Lemon Aid
, which I've reviewed earlier. Not great, but not bad either. I got this balm in a set (Best of Benefit) from the
Benefit website
which doesn't seem to be up for sale now.
I have to admit, I got this one purely because almost every other lady said it is a good product. I mean, who doesn't want their pores to be minimized, albeit using the 'cover-up' way? And it is also touted as being able to keep the face matte and silky, another plus point for me.
Texture wise, in the pan it is a solid balm that looks suspiciously like a mixture of wax and oil. However, when you smooth a thin layer over your face, it feels just like.. balm, like lip balm without the stickiness and glossiness. It does makes your face feels smooth and velvety, but if you apply too much, you will feel like you are wearing a mask of wax. Seriously.
Fragrance wise, there is a not so slight fragrance of lemon. Personally I do not find it unpleasant but rather refreshing. However, those with sensitive nose and skin has better stay away, because the scent lingers on for quite some time and it may irritate your nose/skin.
Packaging wise, as in all things Benefit, it comes in a round tin pot that is very old school and interesting, not to mention the image printed on it. Colour wise, it is a soft butter lemon in the pan but when applied to skin, becomes colourless.
So does it really works?
I have mixed feeling about this product actually. While it really does reduce the appearance of pores, I am not sure about their 'reduce fine lines' claim, seeing as I am young and supple *grin* They also claim to be weightless, in which I have to disagree, because I definitely feel 'something there' when I use it. And it is utterly useless in keeping skin matte, as my face produce the same amount of oil with or without it. But it does gives your skin a smooth and velvety feeling, not just in touch but in looks.
You're suppose to be able to use it over or under your makeup, but I usually apply it as a base for my mineral foundation. Personally I think it will be yucky if I try to apply it over my makeup and get the sponge dirty and disgusting. They also say you should apply it throughout the day for the matte feeling, but come on, do you want to apply layers upon layers of balm on your face? As if the road dust is not enough, so yeah, I use it as a base.
1 tin should last me a lifetime, seeing as I only use it for my cheeks (where the pores are threatening to swallow my makeup). Overall, I'll just give it a 5/10 for the mixed feeling it is giving me.
Price: USD 27 / RM 129
Net Weight: 0.85 oz / 24g
Suitable for: Those who have things to cover up and who don't really notice durian smell at all :)
Dependency: Sponge. No other way to apply it in my opinion
Available at: Benefit counters, online
Would I buy this again: UNDECIDED