Please do ignore my failed attempt to do a nice blue look to match my top today, although in real life it IS blue instead of this silvery look you see here. The main point is not the colour though, but instead it is the smudge free and creaseless clean eyes in the pictures.
Do bear in mind that I took these pictures not in the morning right after I applied my eyeshadows.
These are after 9.5 hours in the office, an hour of traffic jam in the car and another half hour of sitting on a motorbike. I solemnly swear I did not touch up my eyeshadow throughout the day, and did not even blot off the excess oil on the lids.
Amazing ain't it?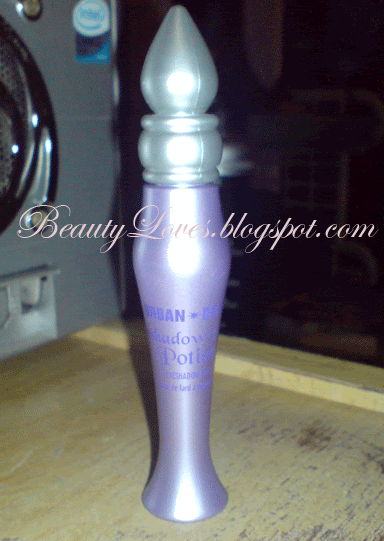 By now, alot of you have already bowed down to this little genie in a bottle. This eyeshadow base/primer promises to make your day by insisting that it will make your eyeshadow stick throughout the day, make your liner stay on your eyeline and not elsewhere, and also bring creasing down to nil.
I cried tears of joy when I got back home after work today (incidentally, my BB gel liner did not smudge even after being bathed with tears) because I finally found an amazing primer that I love to bits that does what it said it will do.
The texture of this primer is just like a creamy concealer. Using the sponge tip at the end of the wand provided, you're suppose to dab some primer onto your lids and then use your ring finger to dab it in gently. I find it very easy to blend in and the time it takes for it dry is just enough for you to work the product onto your whole eye area. It dries into a nudy finish that will not affect the colour of your shadows (instead it will bring the colour out more).
I detected a slight plasticky, waxy smell to it but it is only noticeable if you bring your nose close to it and sniff like a mad makeup addict. A plus point as you really do not want some strong fragrance around your eye, especially for those with sensitive skin.
Did I mentioned how much I love this primer?
Removing my eye makeup is also ridiculously easy, considering how they stay on throughout the day. Just a little makeup remover on a cotton pad, a few presses and a few swipes and off they go. Though I have to admit, there was a tense moment when my black gel liner left inky residues on my eye socket and I thought they wouldn't come out without a hard battle.
Since you only need a small amount for each eye application, I predict that 1 bottle of UDPP will last quite awhile. Also take note that since the bottle shape is very much impractical, even though your wand may come up empty and you think the bottle is at the end of its life span, do whip out your knife and an empty jar. Cut the bottle around the middle and bottom and you will be amazed at how much product is still left in the bottle. A lot of people are saying that
Urban Decay
had tricked them, but I think those people have a great mind. Come on, what other company offers you the opportunity to mutilate their products and have fun cutting and scooping?
*Joke alert, cue laugh*
Since pictures say a thousand more words, scroll back up to the top and judge for yourself how useful this primer is.
Price: USD 16
Net Weight: 10 ml
Suitable for: Everyone! Dry lids, oily lids, combi lids, in between lids.
Dependency: Fingers
Available at: Currently unavailable in Malaysia, only through online stores. For elsewhere, I assume you can get it at Urban Decay counters?
Would I buy this again: YES YES YES!
Updated:
Sorry dear readers for my lapse. The only site that I know of where you can purchase UDPP online and have it shipped to Malaysia for a price seems to be
www.amazon.com
.
For readers in US, you can try
www.drugstore.com
,
www.urbandecay.com
,
www.ulta.com
and
www.sephora.com
I got mine from a lovely lady currently residing in US who organizes sprees to help her fellow Malaysians. She gets everything shipped to her US address and then ships them back to her Malaysian home address where someone will distribute them. She can definitely be trusted (after all, I am a good example) so if you need any help, do give me a holler aight?
Updated again:
Her price has gone up uP UP!!! Fortunately I found another seller who does preorders and her price is still reasonable at RM 75.90.