Inspired by
Tine
, I too decided to post up pictures of a part of my collection. Call me a junkie, addict, or a hoarder, the following are images of makeup products that I have bought but have not started using yet.
Part of the reason they are still stashed secretly in a hiding place where my precious can't be found, is that I insist on finishing the old before opening the new. Makeup can expire and stingy me don't want to waste their short life just because I want to try something new on a whim. And seriously, some of them are too pretty to be used. It gives me great satisfaction to rub their new bellies once in awhile.
I won't be giving any description as I haven't try them out yet. Guess you'll just have to stay tuned for their first debut and review.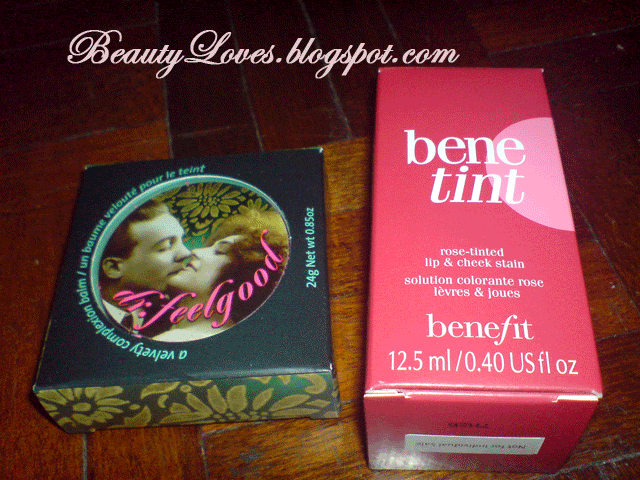 L to R: Benefit Dr. Feel Good, Benefit Benetint
T to B: Benefit Bad Gal Lash, Max Factor 2000 Calorie Mascara
Note: The 3 Benefit items were bought from the website in a set, called the Best of Benefit.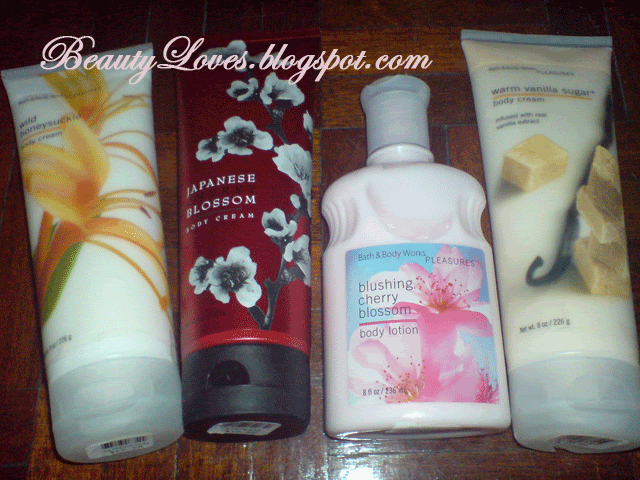 All Bath and Body Works creams and lotions
Ok, I cheated a lil, I did try out these for the scent only. First one is Wild Honeysuckle which has a sweet scent, not cloying but also not exceptionally interesting. Second one is Japanese Cherry Blossom which has gotta be my favourite out of this bunch. Initial phase you will think the smell is overpowering (it smells like men cologne by the way), but after the scent has wafted a little, at second phase you will suddenly notice a delicious sweet scent floating around you. At the third phase, the scent mellows down to a softer version of its former self. I was blown away by its complexities and layers.
The third one is Blushing Cherry Blossom which I haven't tested out yet but it smells sweet too when I sniff it from the bottle. The last one is Warm Vanilla Sugar and the smell is true to its name. I can smell vanilla, sugar and cream in it and it made me go 'yum'. (In fact I think there is a dupe for this smell. You can try The Skin Food Milk Body Cream and they smell similar.)
Do not ask me whether their scent conform to the description on the website. I am too n00b(a beginner) at detecting different ingredients.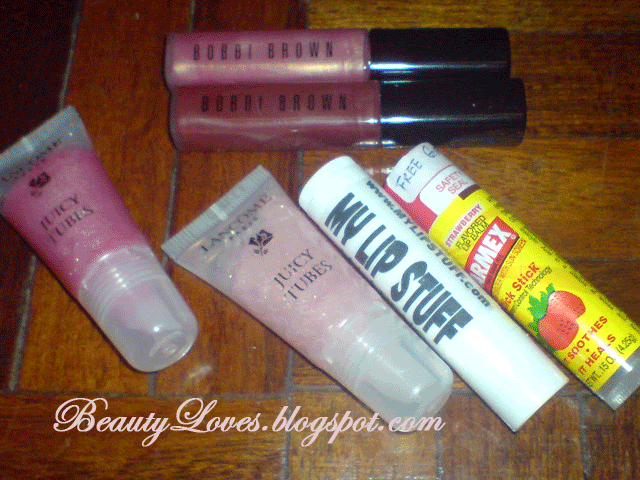 Top: Bobbi Brown Shimmer Lip Glosses
Bottom, L to R: Mini Lancome Juicy Tubes (shared a box with a friend),
MyLipStuff
lip balm in Jalapeno (their lip balms are amazing, not only moisturizing but they smell heavenly!), Carmex Strawberry lip balm (was a free gift)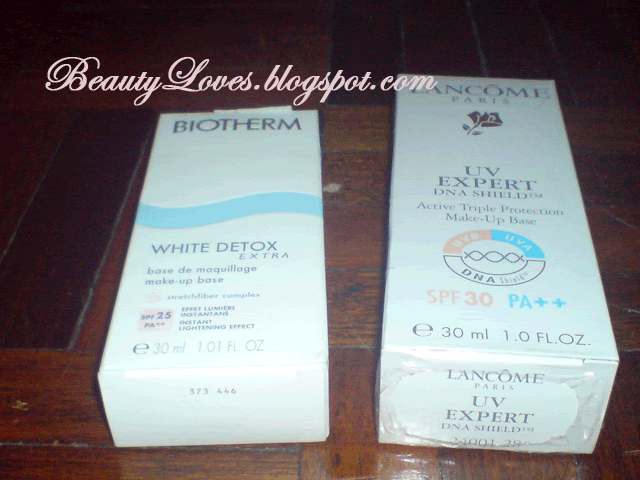 L to R: Biotherm White Detox Makeup Base in pink, Lancome UV Expert Makeup Base
There should be another stash of Urban Decay and NARS that I have not get my greedy hands on yet, so I'll update on another day. For now, just feast your eyes and start drooling :)
Updated: Blushing Cherry
Rose
Blossom smells like rose potpourri. LOVE!