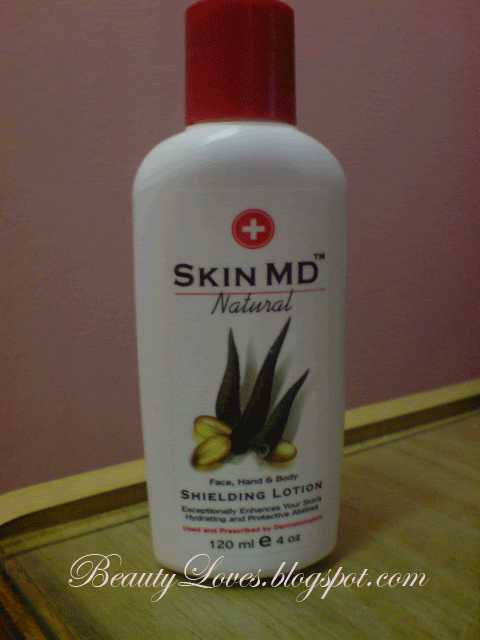 My last post was almost 2 months ago, and I sincerely apologize to those who still haunts this space. Work is taking up most of my time now, and when I finally do get back home, it takes my all to just resist going beddy-bye. Shall. Be. More. Diligent. From. Now. On.
Promise.
So for my comeback, I have chosen to review a particular product. This review is long overdue, and I do apologize to Pete of
Skin MD Natural
, who had so kindly sent me a full bottle of their shielding lotion, as well as 2 samples which had been commandeered by my sister.
I first caught wind of this lotion when Tine of
Beautyholics Anonymous
sent me her samples. Her response prompted me to visit their website and I was delighted to discover that they actually sent out samples to bloggers who are interested in trying them out. Talk about good social media skills, one of the best way to promote your products online(learnt something new today eh, marketeers?).
This lotion not only promises to properly hydrates and moisturizes your skin, it also says that it will improve your skin's ability to retain that moisture by forming an invisible shield over your skin. Isn't this better than your standard moisturizer?
The texture of this lotion is very, very light, thus making it easy for your skin to fully absorb it (within seconds actually). It does not leave a greasy feeling and your skin will immediately feel soft and smooth to the touch. It has a light fragrance that reminds me of aloe vera and I am thankful that it does not smell like fish oil, as one of its ingredient is Vitamin E.
The bottle may look small but you actually only require a tiny amount to fully moisturize your hands and feet. These are the only 2 places I use it for, as they are particularly dry. I am also using it quite sparingly, as it is not available locally here (Malaysia) and I do not have the means yet to purchase it online.
Also, the size of the bottle guarantees that you will be able to bring it with you anywhere and whip it out anytime.
After just a few days of using it, I noticed that my skin did indeed felt more hydrated, especially my heels where the skin is rough, cracked and dry. They no longer have the dry and hard outer skin that always prompts me to peel the skin off, but instead, are on their way to full recovery and softer skin. This alone makes me want more of this lotion! Initially I wanted to post before and after images but considering the delicate nature of females, I decided not to upset your little stomachs.
It is mentioned that this lotion can be used on the face, hands and body (and feet too I assume) but I did not felt brave enough it try it out on my face. I also did not use it as a body lotion since supply is limited. So sad.
So dear Santa, now you know what I want this year. (Psst, 1 Gallon of shielding lotion please.)
Price: USD18
Net Weight: 4 oz
Price: USD294.14
Net Weight: 1 gallon
Suitable for: All skin type
Dependency: None
Available at:
Skin MD Natural
Would I buy this again: YES