Sha-Lene (Thank Lord I have readers) was asking me the other day, about silver/white/pearly eyeliner that is used to line the inner corner of our eyes, closer to our nose bridge. This way of lining supposedly gives out an illusion of bigger eyes, and is also able to wake up tired eyes. In those days, being a makeup junkie with teenie eyes that I was (still am in fact), I rushed off to find a white eyeliner that did not cost a bomb.
And found it I did, cheap, convenient, but not necessarily good.
Now, before you rush off to do the same, I suggest you look closely at your eye shape and decide whether white eyeliner will help you or break you. If I had took the time to do it, I would definitely had noticed that my eye shape is not suitable at all. you will find out later why.
Elainto's auto liner is available in 4 colours: white, black, brown and black. Texture wise it is kinda hard and brittle, which i found out the hard (no pun intended) way when a small chunk broke off mid-drawing. I hate using hard liners as it pulls way too much on my eyelid so I'll surely not try the other colours as well. Colour payoff is not too bad considering its hard texture. No fragrance or smell whatsoever. No need to sharpen it at all, as it is a twist-to-lengthen-or-shorten format. Easy to remove using makeup remover, so unfortunately this makes it easy to smudge too.
Since after the first try I have never used this liner ever again, I will make an exception today to demonstrate how
I
used it. The problem I have with my eye is that the lower line eats right into the fold of my upper line, thus making it impossible to make the 'V' shape to open up my eye.
Step 1: Liner your entire under eye, but only on your waterline. Anything lower will look too 60's.
Step 2: Liner your inner eye corner by making a side 'V' shape. Smudge it so the liner does not look hard.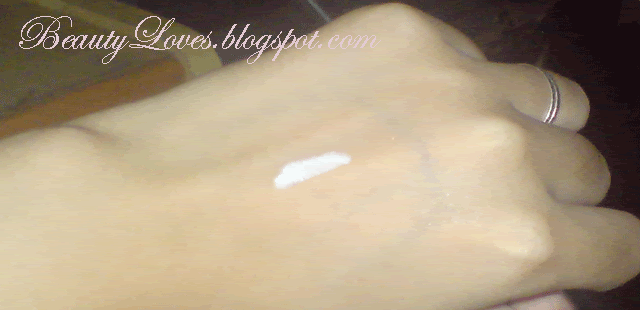 Also, I find using pure white liner produces a very harsh and unnatural line, much too theatrical for everyday use. If you are sure that you would like to use this technique, I have a few suggestion beside this Elianto's auto liner.
1. Shu Uemura's Eyelight Pencil with 2 ends, 1 matte, 1 pearl
2. Benefit's Gilded or Eye Bright
3. SilkyGirl's Funky Eyelights in Silver
4. Ladies First recommended Pearl Eyeliner, which can be bought online at this
forum
. It comes in many other colours besides white and silver. I can even help you get it if you do not have an account there.
*stares at above picture*
*makes a senseless little twirl on tiptoe*
Yes, I still prefer to line my lower lash line with black/dark liner.
Price: RM 12 or 15. Not too sure
Net Length: 30 mm
Suitable for: Small and tired eyes with suitable eye shape
Dependency: None
Available at: Elianto counters
Would I buy this again: NO